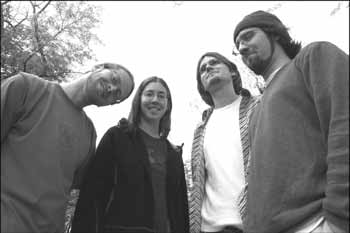 Ok, well I've finally gotten over my anger at WordPress that's resided in me since Saturday, which means I can finally share the Family Groove Company post with you as our ninth Summer Camp Artist Series entry. It also means that I can write about the band now that I've seen them live, because I saw both them and Summer Camp Artist #08 – RAQ last night at Canopy Club in Urbana, IL.
First off let me say that I enjoyed both bands quite a bit. RAQ has a lot of energy and you cannot for the life of you stop staring at Todd Stoops, the keyboardist and one of the vocalists. He is just insane to watch. But, back the band at hand so to say, Family Groove Co. They played two sets. About halfway through the first one I was enjoying it, they had good jams at decent lengths and they only let the energy drop at just the right times. Then, they covered The Grateful Dead's "New Speedway Boogie." Holy cow, one of the best Dead covers I've heard done, period. They had a completely unique take on a old classic that turned out perfect. Kudos to them. Then I believe they went right into "As Abe Was Walking," which I happen to enjoy immensely. The second set was equally good, albeit a little shorter it seemed like, but all in all they definitely made themselves a few new fans last night. The band is definitely composed of some down to earth, nice people, and even after a 22-hour drive to Urbana from Colorado they were still happy to be there and seemed to enjoy the night a lot.
One thing I have yet to mention: Family Groove Co. has one of the coolest promotions of any band I've seen yet. If you go signup for their online newsletter, they will send you a live disc of your choice, completely FREE of charge. They cover shipping, everything. That's what kind of nice people they are. Going off of setlists, I'm going to have to recommend that you ask for 9/13/03 or even better, 7/21/05, since they both feature copies of "As Abe" and "New Speedway Boogie," and those are two songs that you must hear from this band. I personally grabbed 06/03/2004, live at The Cubby Bear, which is also a good disc, but I really have a craving for that "NSB" right now.
I believe I've probably been talking a little too long now, so here are some tracks to get you started. Make sure you don't forget to sign up for the email list on the group's website, and befriend them on MySpace, too. Until you get your disc in the mail, enjoy these tracks as well as their full live show from last year's Summer Camp. I recommend NSB obviously and "The Charmer" which is the title track to their new Studio release at the end of April, The Charmer.  You can preview that new album at FamilyGrooveCo.com/Charmer/index.html.
From 2002's Reachin':
FGC – Just Like I Planned
FGC – As Abe Was Walking
From May 28th, 2005, at Summer Camp 2005, in Chillicothe, IL:
01. Wrath of the Solids
02. Ready Fire Aim
03. Virginia Hill
04. Back at the Chicken Shack
05. The Charmer
06. Byron's Got the Time
07. New Speedway Boogie
08. One Eye Dreaming
—————————————————————————
You can find more information on the Summer Camp Music Festival here.
—————————————————————————
Click this link for other posts in our Summer Camp Artists Series.
—————————————————————————